Jul 15, 2010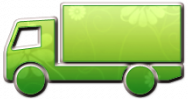 Another major piece of BoxCycle functionality – Delivery Support – is now in place.  Box sellers can offer buyers the option of having their boxes delivered.
More Reach for Sellers
Your listing will appear in all search results within your delivery area.  For example, if a buyer searches for sellers within 5 miles and you are 20 miles away, but deliver to the buyer's location, you'll appear in their results as a delivery-only option.  This is especially beneficial to sellers who are located outside of major metro areas.
More Visibility
Listings with delivery are made to stand out with a Green Truck icon.
Happier Buyers
Most buyers prefer delivery, some will only order if delivery is available.
Delivery Area and Prices
As a seller, you decide how far you want to deliver and at what prices.  For example, you can set delivery cost to $10 within 5 miles, $20 within 15 miles, $40 within 50 miles, etc.
You can also specify a delivery discount at a certain order size.  For example, you can discount delivery by $10 for buyers who order $50 or more.  In the example above it would give the buyer FREE delivery within 5 miles if they reach $50 (and discounted delivery to other areas).  This discount is made very visible to buyers in the delivery price list and in the shopping cart to encourage them to buy more.
Delivery Commission
BoxCycle commission on delivery charges is only 5%.
How It Works
The delivery order process is very similar to pickup orders with buyer and seller appointment responsibilities exchanged.
As a reminder, for pickup orders buyers select several pickup choices from within seller hours.  The seller then selects a single time when confirming the order.  The buyer is provided with the seller's address only after the order is confirmed.  The buyer is obligated to show up on time (within 15 minutes of their appointment.)
With deliveries, the buyer chooses 2 time ranges of at least 4 hours each from within seller hours.  At least one range must be 24+ hours in the future.  When confirming the order, the seller selects a single time when they will deliver the boxes.  Buyer's exact address is provided only after confirmation; only approximate location (accurate to about a block) is available beforehand.  The seller is obligated to deliver within 15 minutes of their appointment.  Seller's address is never made available to buyers who order delivery.
Check out the Delivery Order Process for more details.
What About Issues?
We already have penalties in place for missing appointments.  Delivery fees are not refundable and delivery discounts will not apply if the buyer misses their appointment or refuses delivery (unless, of course, the seller is at fault.)  If the buyer misses their appointment, the seller can either:
come back (and the buyer will need to pay penalties + additional delivery fees to reschedule) OR
simply leave the boxes at, or near the location; the buyer takes responsibility for loss.
Since delivery takes a substantial amount of effort, the seller can decide which of the above options they'd like.  However, to protect buyers, the seller must contact BoxCycle beforehand.  We will notify the buyer by phone and email to give them a chance to make last minute arrangements to minimize loss.
The seller may wait for the buyer at the appointment site, but is never obligated to do so beyond 15 minutes.
See the Buyer Appointment Agreement for more details.
What About Shipping?
Shipping differs from delivery in that it's generally performed by a commercial carrier like UPS, does not require appointments, and offers tracking.  Shipping isn't supported in this release, but we expect to add it soon.  If you need shipping, let  us know so we can prioritize.
I Have a Delivery Route; How Do I Make This Work?
At this time we require exact appointments; sellers with an existing route may have trouble predicting their delivery time within 30 minutes.  We hope to be able to offer delivery time ranges (e.g. 2pm-6pm) in the future.  If you need this, let us know so we can prioritize.
What Else?
Delivery has a number of complexities; we'll be fine-tuning the process as we go along.  Your feedback on this functionality is much appreciated.
No Responses to "Used Cardboard Boxes Delivery Is Here!"