Apr 2, 2011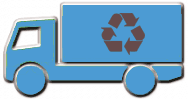 A while ago we added the ability for sellers to deliver orders to buyers.  Delivery helps buyers who don't have a vehicle, are too busy to pickup, or are located further from a seller than they are willing to drive.
In the Bay Area and in Boston, we've now added a Pickup Service option which allows buyers to get delivery from most sellers in the area, even those who don't explicitly offer it!  With Pickup Service, BoxCycle will arrange for a 3rd party to pickup boxes from the seller and deliver them to the buyer.  Most arrangements are currently being made through Task Rabbit, a very cool marketplace for local tasks.
From the buyer perspective, Pickup Service works just like delivery except that they schedule the pickup time, not delivery time, and delivery occurs within 90 minutes of pickup.
From the seller perspective, Pickup Service works just like regular pickups except that a 3rd party picks up the boxes on behalf of the buyer.
Learn more about how pickup service works.